"Been to Adyar branch. Mr. Srinivasan received me well. Foot massage was good.Liked the cozy atmosphere Well done."

"In Bangok, this foot massage is famous! There is an exclusive street there with sophisticated ambience, I enjoyed it during my stay there for 2months! Highly useful & refreshing. "

"Already I have a done it really superb "

"I have tried in Gandhi nagar branch It's extremely useful neat job they are doing and the place is hygienic. "

"

What an amazing experience it really goes by the name Foot haven ask for Phaning therapist he is too good in T nagar branch

"

"I visited foot haven today Adyar branch . It's clean , and hygienic. I thought it was value for money. Please do visit. "

"I have experienced it. It was very nice. After the procedure, I felt very relaxed and my whole body became light. Thanks Foot Haven. Even the ambiance was very nice with good pipe music and wifi. Looking forward to experience it again soon. "

"My experience with foot haven is totally pleasant, absolutely relieving and rejuvenating. "

"I had experienced it when I had been to China . Rekha . It's good and relaxing. "

"I have been here after starting my career as a teacher Standing for hours to teach, finally it ended up here. They really do a great job. Worth the pay "

"I hv already been to ur place n had a Grt experience. "

"

Good place for relaxing and also curing your problems like neck pain and back pain.

"

"

It is absolutely amazing foot therapy! I feel very light and active! My body feels fresh and rejuvenated! Thanq so much!!

"

"Really enjoyed the experience. It was a lovely, relaxing way to spend the morning. My feet and hands feel wonderful. All aspects of the experience were excellent. "

"

It was very professional and particularly hygienic, which is really important.

"

"

I thought the whole experience was fantastic - my treatment, service, coffee, the lot! I will be visiting many times again! Loved it. Many thanks to all the professional welcoming staff. What a beautiful place.

"
Foot Haven is an exclusive foot reflexology center. Since its inception in 2014, it has catered to a varied clientele, ranging from young executives, looking for a soothing stress buster, to individuals seeking relief from diabetes, numbness and chronic pain. Foot Haven is committed to best practices in the health and lifestyle industry. We are devoted to delighting the customer, compliments from our clients are our
Services All
FOOT REFLEXOLOGY - 45 MINS
FOOT REFLEXOLOGY - 45 MINS
Proudly presented by Foothaven, the new 2-In-1 Acu-Meridian Therapy,...
FOOT REFLEXOLOGY WITH ARMS BACK & SHOULDER - 60 MINS
FOOT REFLEXOLOGY WITH ARMS BACK & SHOULDER - 60 MINS
Our pressure point techniques improve the flow of blood in the body,...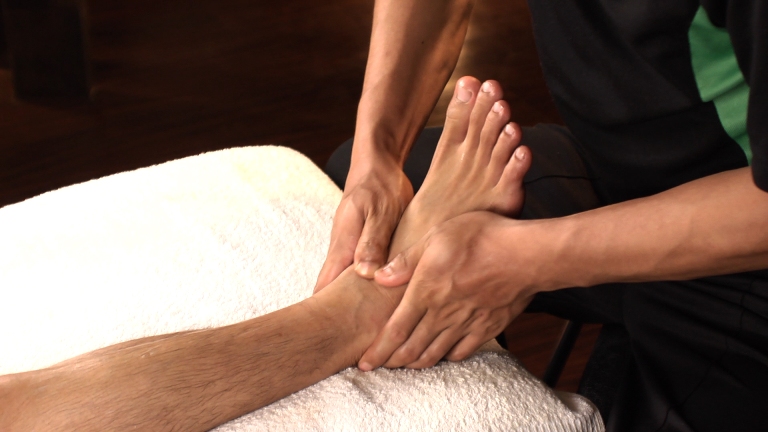 FOOT REFLEXOLOGY WITH ARMS, BACK, SHOULDER, NECK & HEAD – 90 MINS.
FOOT REFLEXOLOGY WITH ARMS, BACK, SHOULDER, NECK & HEAD – 90 MINS.
Passed through generations, this ancient healing therapy works on the...